Overview
This year's APA conference is located in Downtown San Francisco's South of Market District. As we flock to the area to exchange views on hot-button planning topics, let's also acknowledge the efforts of those actively engaged in the South of Market (SOMA) community. Located in Downtown San Francisco, the Moscone Center (the location of this year's conference) is in the heart of the SOMA Pilipinas. The placemaking and participatory design efforts of the movement to make SOMA a historically registered Filipino-American enclave exemplify a distinct example of the processes and strategies necessary to preserve a vibrant ethnic enclave. With the long-term vision of guiding future efforts, while paying homage to the past, here is a brief overview of the neighborhood where most of us will be guests this weekend.
We spoke with Caroline Calderon, urban planner–and former Tenant Organizer and Outreach Worker at Bayanihan Equity Center–to learn more about the SOMA Pilipinas movement.
Background
"The South of Market community came together in 2015 to form SOMA, but this union is based off of decades of community work," says Calderon. She goes on to explain that the first dot-com boom brought together residents, community-based organizations, and other advocates, seeking to address the wave of gentrification that occurred in the 1990s. The industrial zoning of the area made it ideal for startups and tech companies looking for easily leasable office space in San Francisco. When the tech bubble burst, many of these startups left as quickly as they came.
Fast-forward to 2015: the "Twitter tax break"  (a policy that gave tech companies, and most notably Twitter, a six-year payroll-tax waiver for any new jobs created in that time frame), again positioned SOMA as a prime spot in the city for tech companies to house themselves. Without a dramatic increase in housing supply to match the influx of new and more affluent workers, displacement of long-term residents became an increasingly common occurrence. In fact, the ongoing displacement contended by SOMA residents is corroborated by research conducted by UC Berkeley's Urban Displacement Project, which classified the neighborhood as experiencing advanced and ongoing gentrification and displacement (1). Facing the threat of displacement, a petition for the official recognition of SOMA Pilipinas was filed as a part of a strategy to resist a loss of community. SOMA was approved as a State-Designated Cultural District in April 2016 (2).
The Mission of SOMA is to create a Cultural Heritage District that celebrates its connections to the Filipino diaspora by shaping "a community that's conscious of history, yet embraces progress." This reformation includes:
Sustaining the legacy of cultural institutions
Developing cultural assets
Advocating for affordable housing
Stabilizing legacy businesses and community economic development (3)
Why are Cultural Districts Important and What Role Does Urban Design Play?
Calderon states that the fundamental design principles of SOMA Pilipinas are based on Indigenous Filipino concepts such as Bayanihan (a place of community) and of a Bahay-Kubo  ("a communal house on stilts," or, "a house you can not build by yourself"). This sentiment is to resonate through everything from pop-up market spaces to placemaking and urban design, as a reminder that home is rooted in how you build and keep community.

The strong desire to commemorate and honor the legacy of those who have helped shape the SOMA community, current and past, is what makes, as Calderon notes, the creation of a cultural district such a natural phenomenon.
When you think of ethnic-enclave placemaking, you possibly imagine a set of distinct regional concepts rendered through architecture and colloquially recognizable design. The SOMA vision is to work with the city to redesign spaces like crosswalks using cultural motifs, activate empty walls with ornate storytelling murals, and inspire architects to draw on these cultural motifs for their designs; a tactic that is subtle but still impactful.
"Because of the Philippines' heavy colonial influences, it is harder to note a particular architectural style that is distinctively Filipino, so the design of SOMA is purposely focused on the stories and community spaces of Filipinos and Filipino Americans," says Calderon. While you may notice some cultural symbols throughout the community, you are more likely to notice street banners that feature youth and prominent community members throughout the district. "You'll know you're in a Filipina district because you'll see Filipina people and a celebration of Filipina life," she declares.
Public art is an important aesthetic of the district. The National Endowment for the Arts and crowdsourcing funds have helped procure assistance to create murals throughout the district. The Kapwa mural (below), created by artist Samantha Schilf and Monica Magtoto, is based on the concept of Kapwa and uses art to start conversations about mental health in the community. It was completed following a series of workshops that asked participants the question: "What does Kapwa mean to you?" Schilf explains her definition of Kapwa as "fiercely caring for another person, because you see yourself in them." The Kapwa Mural is visible above Mestiza (a Filipino fusion restaurant).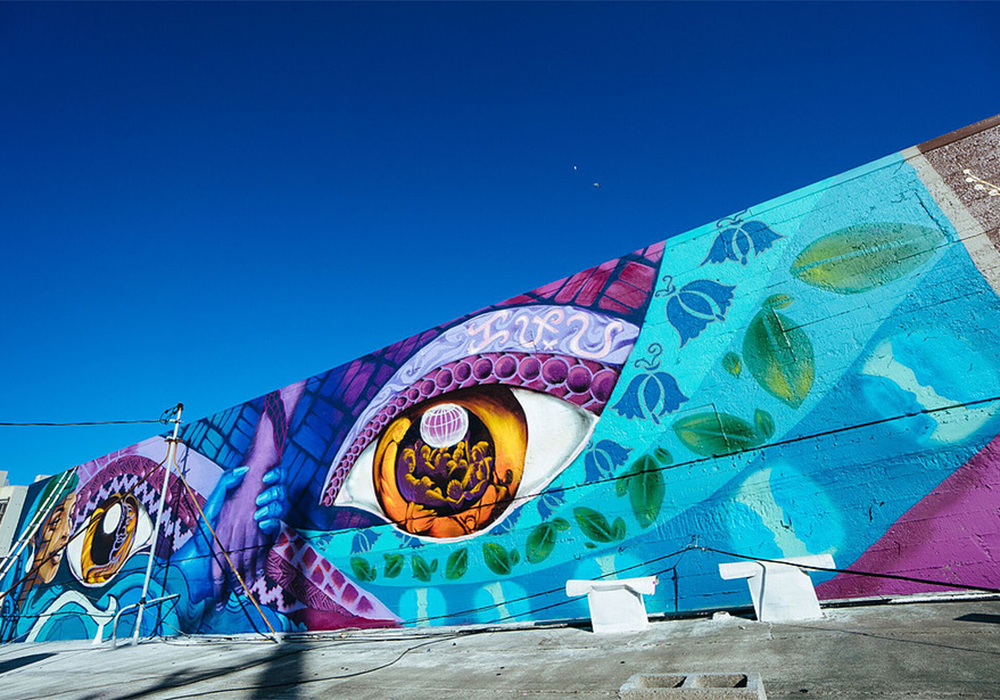 One of the next projects in the pipeline is a redesign of the exterior of the Bayanihan Community Center, the heart of SOMA Pilipinas, and design charrettes have begun for the initiative. Concepts proposed to and by the community include: unique street furniture, like woven-patterned garbage receptacles; way-finding signage that includes Tagalog; exterior skins for renovated buildings that include traditional colors and patterns; and a Jeepney (akin to a small street car) for SOMA public transit to name a few.
Design charrettes, community mapping, public-space dedications, and district tours are all strategies SOMA Pilipinas uses to recognize and reestablish the Filipino presence in the Bay Area. To do this successfully, the design of the district will be grounded in participation and collaboration, which are essential to the creation and maintenance of the cultural district. It's also a way to be inclusive.
"We are in a time in which the call to preserve ethnic and artistic communities through the creation of cultural neighborhoods is being done through [institutions]. This is done as a way to address displacement, and says a lot about how much people value culture. They want future neighborhood development to be centered in culture," says Calderon.
What happens when planners place culture, and cultural preservation, at the center of their work, in addition to the historic preservation of the built form? Cultural preservation requires meaningful connections between planners and communities to address what it means to be
of
a particular culture, and to preserve its traditions and built-form manifestations within everyday life. 
It is possible SOMA will serve as a clear example for planners and designers to look towards as a cultural district and participatory planning case study—so pay attention, look around, and even get involved in what's going on outside of the Moscone Center. Start here.
---
---